Carmeuse
Carmeuse is a worldwide leading producer of high calcium and dolomitic lime, limestone and derived products, providing customized solutions and services for many different industries.
The Problem
The client was looking for a way to connect with their customers, to listen to what they were saying and see how they could improve not for just today, but also sustain for years to come.
The Solution
MINC was contracted to help Carmeuse communicate their mission and vision and educate the internal employees as well as the general public on the uses of lime and limestone.
Over the course of the year, we went to 13 of their key accounts to interview them. We also interviewed their employees throughout North America and Europe. From there we created a series of four videos that premiered at the global management meeting held in Europe.
The purpose of the videos was to report on ways clients feel Carmeuse can improve service and product overall; engage, excite and unite employees throughout the company; and educate employees as well as the general public on the uses, importance and impact lime and limestone have on everyday life.
The Results
Since the launch of this strategic initiative, staff engagement has increased, and Carmeuse was able to increase and sustain production with clients, resulting in an overall positive impact on their sales and business throughout the company.
Minc Strategy
Consulting
Development
Planning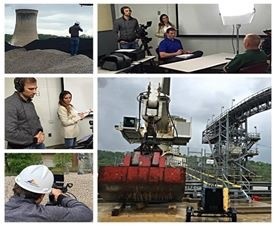 On-site customer interviews
Minc Creative
Video Production
Photography
NMRC Highlight Video
Employee Recognition
Voice of the Customer
Our Clients
We love being at the center of it all and look forward to starting our journey with you.